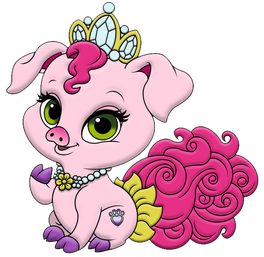 "Once we get this room primped, We can primp ourselves"! - Truffles, Helping Hooves.

One day, Rapunzel was walking with Meadow until....... She saw a lonely pig! Meadow said "Can we keep her? Please?" Then Truffles jumped out of the pig pen. Now Truffles loves Whisker Haven. She like to do fun things in the palace like attend primping parties and style Daisy's hair. She is pink with a magenta tail and lilac hooves. She is voiced by Andrea Libman. In Whisker Haven Tales, She is voiced by Cassidy May Bennulo. She will added to the Whisker Haven App in Macaron, Brie, and Taj's update and be unlockable in the app for free from a Treasure Hunt game. She is the second one to be in the treasure hunt with the first being Bloom.
Appearance
Edit
Truffles is pink with lilac hooves and a magenta tail.
Personality
Edit
Truffles loves to be primped.
Merchandise
Edit
Furry Tail Friends
Minis
Super Bright!
Primping Party 3 pack
Wig and Style
Appearances
Edit
Helping Hooves
Palace Pets: Go Go Sweetie!
She has a inaccurate tail.
It is unknown how Truffles got lilac hooves.
In Whisker Haven, her water drops on her crown are blue instead of purple.
She is named after a character from Happy Tree Friends.