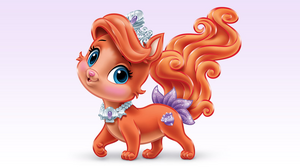 Treasure is a curious kitten which is Ariel's pet.
Appearance
She's a red kitten with cream coloring on her face, chest, and stomach. Slightly loose fur is on each cheek, along with a pale pink blush. Her nose is dark pink, while her inner-ear is cream. She has cerulean eyes. She has a single thick forelock curling to the side, along with a thick very curled tail held with a glittering purple leaf ornament. She wears a silver crown with a clam shape in the center, accented with a purple gem. Her silver collar matches it.
Story
They met when Prince Eric saw the kitty on his crew's ship. Then the prince gave her to Ariel and loved her.
Gallery
Merchandise
Furry Tail Friends
Beauty and Bliss
Talking and Singing Pets
Pawfection Style
Wiggle and Wag
Glitzy Glitter Friends
Balloon Buddies
Lego
Pet and Princess