Teacup is by far the most talented pup you'll ever meet. From balancing treats on her head to curtsying like a princess, her royal training always shines through. Belle and Teacup met at the square, after a talent show.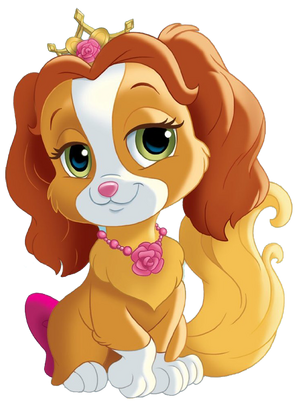 She is voiced by G.K Bowes. In Whisker Haven Tales, She is voiced by Hadley Miller.
Appearance
Edit
Teacup is a orange cocker spaniel with brown ears and yellow markings.
Personality
Edit
Teacup is a show dog. She loves the spotlight and applause.
Merchandise
Edit
Furry Tail Friends
Minis
Glitter and Glitz
Sweetie Tails
Pop and Stick (Series 2)
Appearances
Edit
Whoop De Do!
Halloween Night (cameo)
In the toys, teacup is the most incorrect.
She fits perfectly with Belle, cause her name is Teacup.
Teacup and Petite both appeared in Whoop De Doo.
Teacup and Rouge both appeared in Series 2 of the blind bags.
Teacup and Bloom have similar personalities.