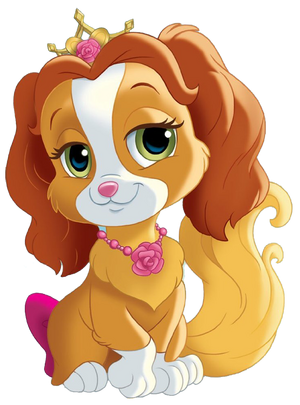 Teacup is by far the most talented pup you'll ever meet. From balancing treats on her head to curtsying like a princess, her royal training always shines through. Belle and Teacup met at the square, after a talent show.
She is voiced by G.K Bowes.
Appearance
Teacup is a brown-blond colored King Charles Spaniel with white on her face and paws. Her cheeks and nose are pink, while her eyes are bright green. Her ears are brown and she has two single curls of bangs, while her tail is bright gold and very long and curly, matching the fur at her neck and chest. Teacup wears a gold crown with a pink rose in the center, a pearl necklace with many pink gems and a big pink rose, and a pink glittering ribbon on her tail.
Personality
Teacup is a show dog. She loves the spotlight and applause.
Appearances
Trivia
In the toys, teacup is the most incorrect.
She fits perfectly with Belle, cause her name is Teacup.
Teacup and Petite both appeared in Whoop De Doo.
Teacup and Rouge both appeared in Series 2 of the blind bags.
Teacup and Bloom have similar personalities.