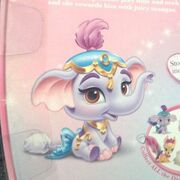 "I Don't Understand, I used to be great at hiding" - Taj, Where's Taj
Taj is a baby elephant. He is owned by Princess Jasmine. Taj met Jasmine at the palace gardens, Now they play hide and seek together. Not all the time cause Taj goes to Whisker Haven. he is voiced by Carlos Araqozi. In Whisker Haven Tales, he is voiced by Gabe Eggerling. He will be added to the Whisker Haven app with Macaron and Brie.
Appearance
Edit
Taj is a grey elephant with pink accents and blue feet. He wears a teal hat, a indigo saddle and gold jewelry.
Personality
Edit
Taj is handsome, charming, and playful.
Merchandise
Edit
Furry Tail Friends
Minis
Whisker Haven Glitter Pets
Pet and Princess
Wig and Style
Appearances
Edit
early Flying High Tea
Hearts Hooves Eggs!
The Masquerade
Buddies Day
Where's Taj?
Whoop de do!
Treasure's Island
Winter in Whisker Haven (Cameo)
Taj, Snowpaws, and Otto are the only palace pets wearing hats.
He appears in various episodes.
It is unknown how Taj got pink toes.
The Whisker Haven Play
Edit
Taj is one of the Pets who participate in the play, being One of the Royal Guards, with the Other One being Veanna. During Practice, He sits on Fern. He refuses to Apollajize because She took his Teddy, but Petite forces him to.
WHM10:Lost on Pawcation
Edit
Otto asks Taj to Give Skyla an Example by Ordering a sandwich with Lapis and Nyle. Once Berry gives them the Meal, Taj Eats It.
He is later seen Trumpeting in Kate's Face, Putting Her in Mud.
The Whisker Haven Play
Edit
"Can I Be One of the Guards?"
"That's What You Get for Stealing my Teddy!"
"Sorry Fern."
"Veanna, Now!"