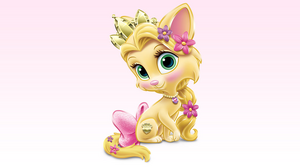 Summer is a spunky, sun-loving kitty who can't get enough spa time. When she's not being pampered and primped, Summer loves to go on long walks in the meadow.
She is voiced by Colleen O'Shaughnessey.
Appearance
Edit
Personality
Edit
Summer is a beauty who loves the spa.
Merchandise
Edit
Furry Tail Friends
Pamper and beauty salon
Minis
Plushies
Whisker Haven Glitter Pets
Appearences
Edit
She resembles Angel from Lady and The Tramp 2.
She has a lucky pebble.
Whisker Haven Quotes
Edit
(Eating)
(Playing Ball)
(Taking a bath)
Now is the time for my favorite thing!
(Going to Sleep)
(Getting Dressed)
Now this is good primping!
I can't wait to see Rapunzel!
(Playing with Friends)