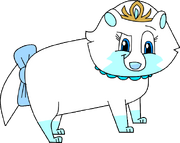 Snowdrift is a white tanuki with icy blue markings on her face and legs, blue eyes and a pale blue nose who belongs to Elsa. She wears a gold tiara with a sapphire in the center, a light blue necklace and a pale blue tail bow.
Story
She's the gift from Anna during the Northern Lights Festival.
Trivia
Tanukis have been introduced in Norway in 1999.