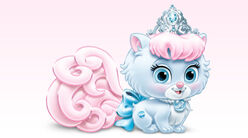 Just before the grand ball, Cinderella's pearl necklace got caught on a doorknob and broke! Slipper is voiced by Kathleen Barr. In Whisker Haven Tales, She is voiced by Gracie Grenier.
Appearance
Edit
Slipper looks like a Persian cat.
Personality
Edit
A helpful cat with perfection. She turns lab coats into fabcoats for the Critterzens. Even Tillie.
Appearances
Edit
Slipper Sparks
No Serenading
Merchandise
Edit
Furry Tail Friends
Minis
Plushies
Magical Lights Pets
Sweetie Tails
Pop and Stick (Series 2)
She sparkles.
She loves raymond.
She prefer
"Sultan, Sultan, Sultan, I am in love with Raymond!"