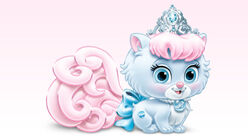 Slipper is an plump persian little kitty owned by Cinderella. She has a special talent that involves finding shiny, pretty objects that the Princess uses to make jewelry with. Slipper is voiced by Kathleen Barr. In Whisker haven tales, she is voiced by Gracie Grenier.
Gallery
Merchandise
Furry Tail Friends
Minis
Plushies
Magical Lights Pets
Sweetie Tails
Pop and Stick (Series 2)
Community content is available under
CC-BY-SA
unless otherwise noted.