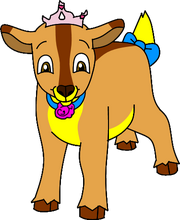 Rosette is a baby goat who belongs to Belle
Appearance
Rosette is a golden yellow goat kid with hazel eyes, a dark brown nose, brown tips on her ears, a brown stripe running from her face to her back, and a yellow muzzle, belly, and tail. She wears a blue tail bow, a light pink crown with pink gems, and a blue collar with a magenta rose on it.
Story
Belle was visiting her father who had a big surprise for her. One of the goats on Maurice's farm had given birth to a new kid. Belle was ecstatic and held her arms out to the little goat who came trotting over to her. Rosette always dreamed of visiting the fair and winning a prize. So, Belle is determined to raise her well and keep her happy, healthy, and loved. Because someday, Rosette just might have her dream fulfilled.
Community content is available under
CC-BY-SA
unless otherwise noted.