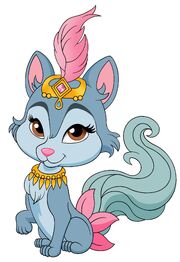 River is a teal wolf with brown eyes, a pink nose and a minty green tail who belongs to Pocahontas. She's voiced by Kate Higgins.
Story
River was howling at the moon, feeling so sad and lonely, until Pocahontas found her and invited her to camp.
Appearance
A dull grey-blue wolf with paler colored fur on her face and inner-torso. Her brown eyes are accented with feminine lashes, pale pink blush and a matching nose and inner-ear. She wears a gold tiara with multiple gems, including a pink diamond attached to a large feather to match the glittering leafy tail ornament and paw marking. She wears a feathery gold collar. Her curled tail is teal.
Merchandise
Trivia
She appeared in Whisker Haven: Pawcation Investigation