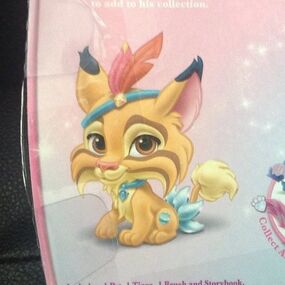 Pounce is a golden-colored bobcat of Pocahontas. He met Pocahontas when the bobcat pounced into her longhouse. Pocahontas smiled at him. He is voiced by
Lucien Dodge
.
Personality
Edit
Pounce is a jolly Ol Bobcat who loves to help his friends. But sometimes, He gets a little off the hook and does not pay attention to the pets in need.
Merchandise
Edit
Furry Tail Friends
Minis
Talking and Singing Pets
Appearances
Edit
Whisker Haven Masquerade
The Nightmare festival
Halloween Mask Terror
He was added to the Whisker Haven App.
As a toy, his tail was bigger.