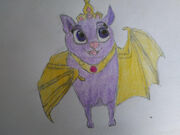 Magic is a bat and she belongs to Aurora.
Appearance
Magic is a golden-winged lilac Greater mouse-eared bat with purple eyes and a pink nose. She wears a gold tiara accented with a few pale pink gems, and a gold necklace accented with a single magenta gem.
Story
She was noticed by Aurora, hanging upside down, watching over everyone sleeping.