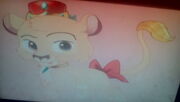 Lais is a male tan lion cub for Jasmine.
Story
Jasmine discovered Lais, or rather, Lais discovered her, near a mountainside. He tried to scare her off at first but loved her after she saved him from a falling rock.
Personality
Lais is quite brave, even in the face of fear, he likes the idea of being king. Lais can also be reckless, sometimes being more brawn than brains. He is noble, and believes in love.
Trivia
Lais means "King of Jungle" in Arabic.