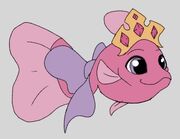 Jesta is a pink guppy fish with purple eyes who belongs to Aurora. She wears a gold tiara accented with a few pale pink gems and a purple tail bow.
Story
Jesta is surprisingly talented, blowing bubbles under water and then juggling them. She's one tricky underwater trick!
Trivia
Guppy fish have been introduced in England in 1963.