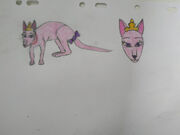 Hopscotch is a pink wallaby with purple eyes and a lilac nose who belongs to Aurora. She wears a gold tiara, a pink necklace and a purple bow on her tail.
Story
She was met by Ash, who was having trouble with jump rope because of her tail keeps getting in the way. So, the clever wallaby found an easier game for Ash to play: Hopscotch!
Trivia
Red-necked wallabies have been introduced in England in 1900.
She was named after the game: Hopscotch.