"Yes ma'am....Not!" - Bloom's Catchphrase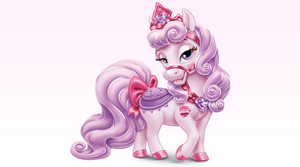 Bloom is the most charming pony and belongs to Aurora. She met the Princess when Prince Phillip gave her the Pony and named her Bloom. She was added to the Whisker Haven App.
She is voiced by Christine Cabanos. In Whisker Haven Tales, She is voiced by Eva Belle while Mary Katherine Dillon does her singing.
Personality
Edit
Bloom loves to show off with her bedazzling look. She always makes everyone in Whisker Haven smile and is filled with cheer and delight.
Merchandise
Edit
Primp and Pamper Ponies
Minis
Magical Lights Pets
She appears in the Palace Pets App.
She made a appearance in the blind bags.
She has the singing voice of Mary Katherine Dillon because Eva Bella can't sing.
She appeared in the Whisker Haven Episode: Whoop de do!
She sings one part of Everyone's a princess.
Bloom wears an alternate crown in Whisker Haven.
She can be a bit of a bully sometimes as shown in Whisker Haven 8: Chris-Mas as she teases Flora by calling her a "toilethead" while having to wear a cone.