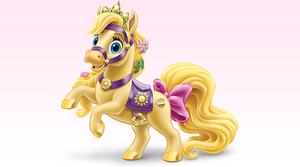 Blondie is a brave and loyal horse with a beautiful long mane that is very fun to brush. She loves to shook her head and stand up like a perfect guard horse. She is voiced by Katie Leigh. In Whisker Haven Tales, She is voiced by Berkley Silverman. She will be added to the Palace Pets Whisker Haven App with Snowpaws and Fern after introducing an episode of Whisker Haven Tales called Bee Cool
How Blondie and Rapunzel met
Edit
Rapunzel met Blondie during a parade to celebrate the princess's return. When Blondie bumped into Maximus, kind Rapunzel paused the parade to reassure the pony. The princess and her little pony have been fast friends ever since.
Merchandise
Edit
Minis
Plushies
Beauty and Bliss
She likes protecting.
Her favorite color is purple.
She looks just like Rapunzel.
She has a look similar to Petit.
She appeared in The Whisker Haven Episodes No Crown, No Service What's wrong with Daisy, Whisker haven night knight rematch, and A Very Dreamy Christmas.